We're proud to announce that Edwinstowe will be the first Nottinghamshire village to receive Connect Fibre's 1000Mbps full fibre service! 🙌
We're sure Robin Hood would approve of prices as low as £22.50/mth and more Wi-Fi range than his bow! 🏹
Our Edwinstowe network is nearing completion with the first customers expected to be connected this summer.
All packages are powered by the latest Wi-Fi 6 routers delivering more speed, range, and capacity. A whole home Wi-Fi mesh service is also available which includes the UK's best Wi-Fi guarantee.
Don't live in Edwinstowe? Don't worry, we've got big plans for the region and we'll be available in several other towns soon.
Edwinstowe resident? Join our merry men and register now!
Full release:
PRESS RELEASE 7th July 2022
CONNECT FIBRE ANNOUNCE HYPERFAST BROADBAND NETWORK DEPLOYMENT IN NOTTINGHAMSHIRE. £1M EDWINSTOWE INVESTMENT THE FIRST OF SEVERAL IN THE AREA.
Edwinstowe network is nearing completion with the first customers connected summer 2022

£1M full fibre investment in town will be joined by several other deployments in the region

Foresight Group funded team accelerating plans to reach an initial 100,000 homes and businesses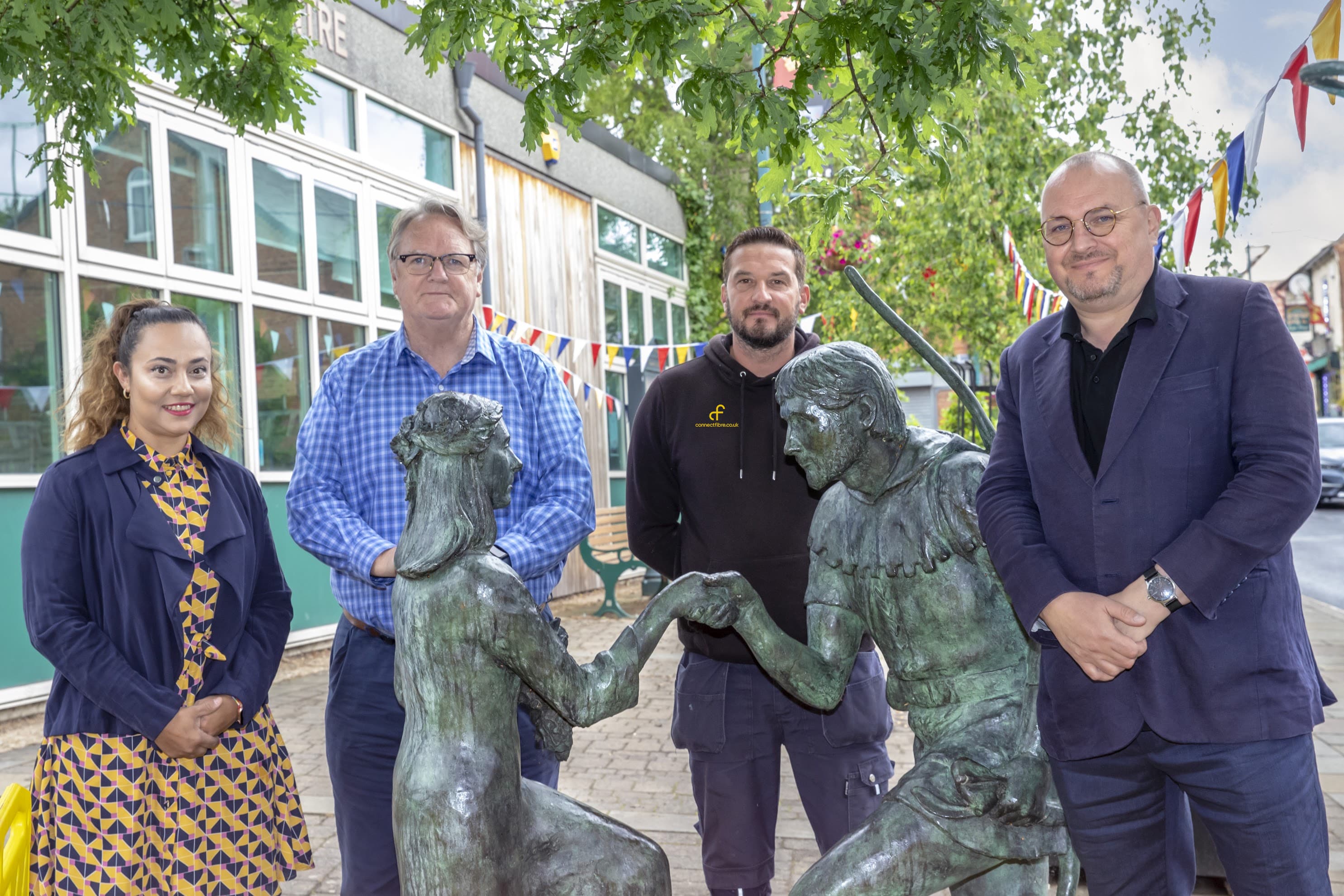 From Left to Right standing next to the village's statue of Robin Hood proposing to Maid Marion, which is close to the church where legend says that Robin Hood married Maid Marion – Ceren Clulow (Digital Connectivity Manager Nottinghamshire County Council), Keith Girling (Nottinghamshire County Councillor), Jamie Grocock (Connect Fibre Senior Build Manager) and Stefan Stanislawski (Connect Fibre CEO & Co-Founder).
Connect Fibre announces that Nottinghamshire will be the second region covered by its full fibre network, with Edwinstowe the first town to benefit. Edwinstowe is a quintessentially English East Midlands village with an exceptionally long history - it was here that Robin Hood and Maid Marian were married. Today it is the base for exploring Sherwood Forest.
Connect Fibre has been deploying an ultramodern infrastructure over the past two years as part of the Connected Forest project and has now extended this to serve the wider community. This brings Edwinstowe right up to date with symmetric Gigabit broadband, ahead of many areas in England's major towns and cities.
The first customers will be connected during the summer, choosing from a range of full fibre broadband packages up to 1,000 Mbps, with prices from as low as £22.50 per month. All packages are powered by the latest Wi-Fi 6 routers delivering more speed, range, and capacity. A whole home Wi-Fi mesh service is also available which includes the UK's best Wi-Fi guarantee.
Nottinghamshire County Councillor Keith Girling, Cabinet Member for Economic Development and Asset Management, said:
"Being better connected is essential for the way we work, learn, and communicate. So having these alternative broadband networks is great news for residents and businesses in the area. As a council we have worked closely with this provider, as they have strong links with Netmore, one of our partners for our world-leading 5G Connected Forest research project. Their know-how brought a 5G network to a forest setting so that experts were able to test how 5G technology can boost tourism and the environment."
Newark and Sherwood District Council, Councillor Holloway, added:
"Our district is on the up and up with many new developments and I am particularly pleased that the brand-new fibre broadband network can now take fibre directly into the home. This will support the same extremely fast speeds for upload as well as download. This will be especially important for the development of our businesses, home businesses and people working from home as well as the general development of Edwinstowe."
Commenting on the deployment milestone, Stefan Stanislawski, Connect Fibre Co-founder and CEO, said:
"I have been visiting Edwinstowe over the past three years as part of the 5G Connected Forest project which generated interesting and thought-provoking results in terms of the complementarity of mobile networks and fibre networks. On my many visits I've grown to admire Edwinstowe and the industrious nature of the community here. We are extremely pleased to deliver our full fibre broadband which will be just fabulous to use. Fairer, faster, flawless."
Residents who want to learn more about Connect Fibre's broadband services should visit and register their interest at www.connectfibre.co.uk.
ENDS
Further information
press@connectfibre.co.uk, 01223 080 790
About Connect Fibre
Founded in 2019, Connect Fibre is a community-minded full fibre network operator and broadband provider. Led by a passionate team of broadband experts, Connect Fibre is on a mission to bring flawless full fibre broadband and Wi-Fi to the communities that need it. All packages adopt guaranteed symmetrical speeds, Wi-Fi 6 routers, fair pricing with no hidden fees or mid-contract price increases; and exceptional support from a UK-based call centre.
About 5G Connected Forest
5G Connected Forest is a world-first project as part of the Government's 5G Testbed and Trials programme to assess the potential for 5G applications in the historical site of Nottinghamshire's Sherwood Forest area. To read more about the research visit https://5gconnectedforest.org.uk/